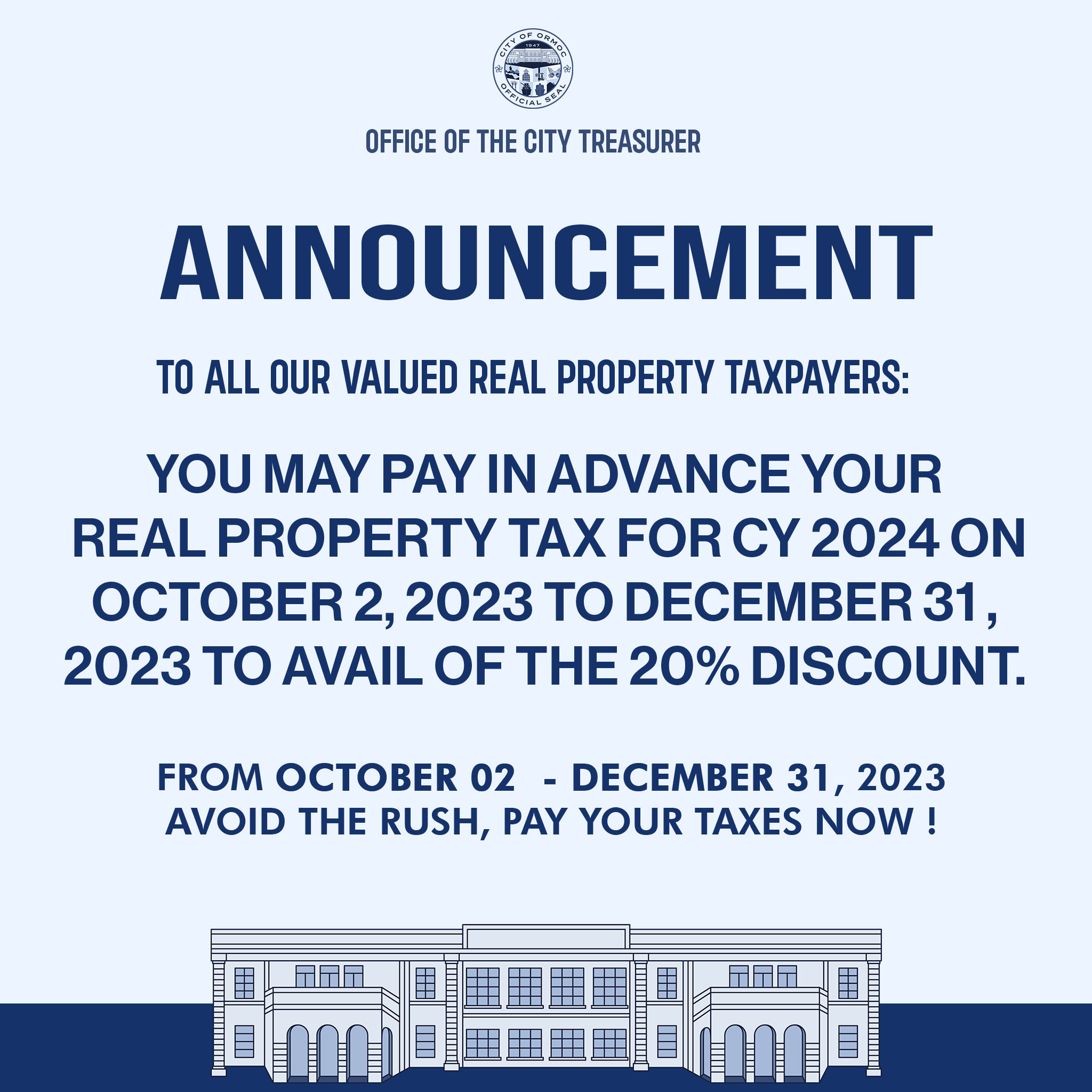 ANNOUNCEMENT
TO ALL OUR VALUED REAL PROPERTY TAXPAYERS: YOU MAY PAY IN ADVANCE YOUR REAL PROPERTY TAX FOR CY 2024 ON OCTOBER 2, 2023 TO DECEMBER 31, 2023 TO AVAIL OF THE 20% DISCOUNT FROM OCTOBER 02 - DECEMBER 31, 2023 AVOID THE RUSH, PAY YOUR TAXES NOW!
September 19, 2023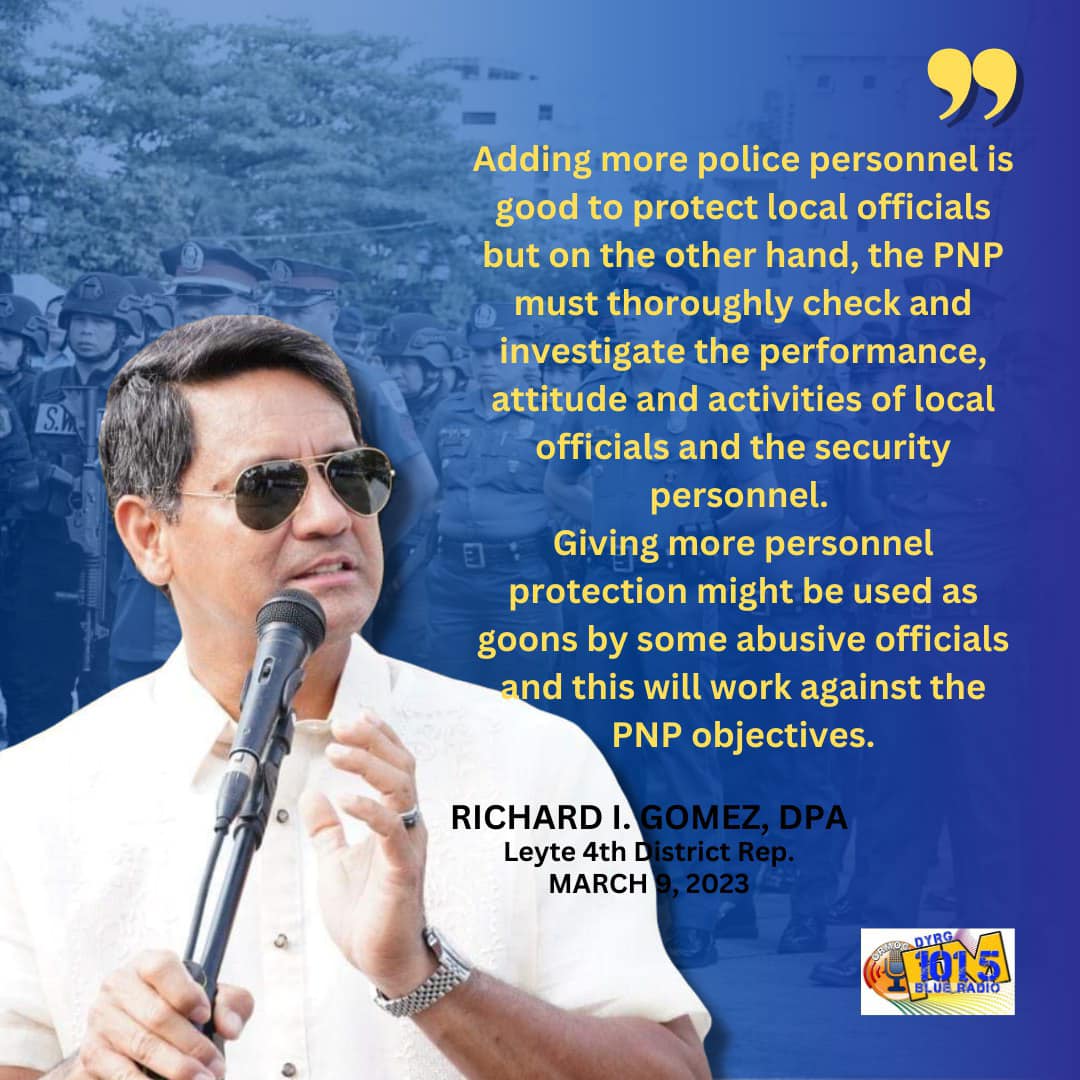 CONG. GOMEZ, PABOR NGA DUGANGAN ANG SECURITY PERSONNEL ALANG SA PROTEKSIYON SA MGA LOKAL NA OPISYAL
Pabor si Leyte 4th District Representative Richard Gomez sa dugang security personnel para sa mga local officials taliwala sa nahitabo nga pagpatay kang anhing Negros Oriental Gov. Roel Degamo. Matod ni Gomez, dapat usab tan-awon sa Philippine National Police (PNP) ang performance, attitude ug mga aktibidad sa maong pulitiko ug apil sab nga susihon ang background sa security personnel nga i-assign niini. "Adding more police personnel is good to protect local officials but on the other hand, the PNP must thoroughly check and investigate the performance, attitude and activities of local officials and the security personnel. Giving more personnel protection might be used as goons by some abusive officials and this will work against the PNP objectives." matod sa kongresista Gawas niini, dapat pakusgan pa sa kapulisan ug ubang law enforcement agencies ang pag-monitor sa palibot. "What the PNP and other law enforcement agencies must also do is to be more vigilant, check on a regular basis the suspicious people who carry shoulder bags, check waistlines for those who might be carrying firearms inside their pants and make sure to double check men in uniform carrying firearms in public if they are active from the armed service." dugang pa sa kongresista Gikonsidera karon sa PNP ang dugang security personnel sa mga local nga opisyal.
March 09, 2023
MASTER PLAN UG FEASIBILITY STUDY SA ORMOC FLOOD CONTROL UG DRAINAGE IMPROVEMENT, GIPRESENTAR
Gipresentar ang master plan ug feasibility study mahitungod sa flood control ug urban drainage improvement sa Ormoc City sa nakalabay nga adlaw. Si CTI Engineering Company, Director Makoto Mitsukura inubanan ni CTI Project Manager Jose Niño Tabi ug Cathlyne Bautista ang mipresentar atol sa meeting sa LGU-Ormoc bahin sa mga impormasyon sa tinguha nga mahimong disaster resilient ug adaptive sa climate change ang Ormoc City. Lakip sa gipakita sa CTI ang terms of reference alang sa master plan ug feasibility study sa flood control ug urban drainage improvement sa syudad. Kini nga proyekto ubos sa paningkamot ni Congressman Richard Gomez, Mayor Lucy Torres-Gomez, Vice Mayor Toto Locsin Sr ug ubang opisyal, aron maminosan ug ma-control ang pagbaha sa mga flood prone barangays.
March 08, 2023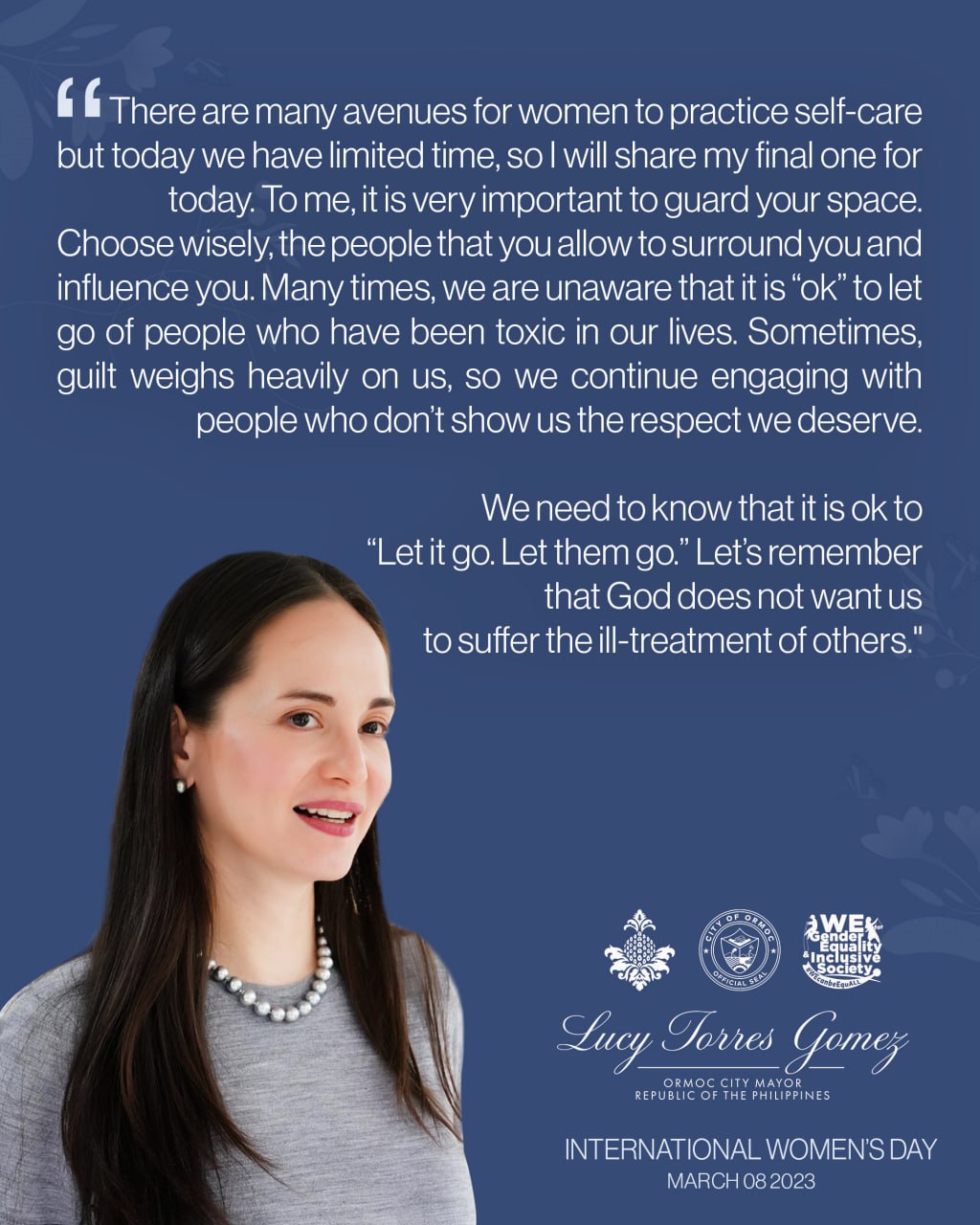 An excerpt of the message of City Mayor Lucy Torres Gomez during the celebration of International Women's Day
"There are many avenues for women to practice self-care but today we have limited time, so I will share my final one for today. To me, it is very important to guard your space. Choose wisely, the people that you allow to surround you and influence you. Many times, we are unaware that it is "ok" to let go of people who have been toxic in our lives. Sometimes, guilt weighs heavily on us, so we continue engaging with people who don't show us the respect we deserve. We need to know that it is ok to "Let it go. Let them go." Let's remember that God does not want us to suffer the ill-treatment of others. "
March 08, 2023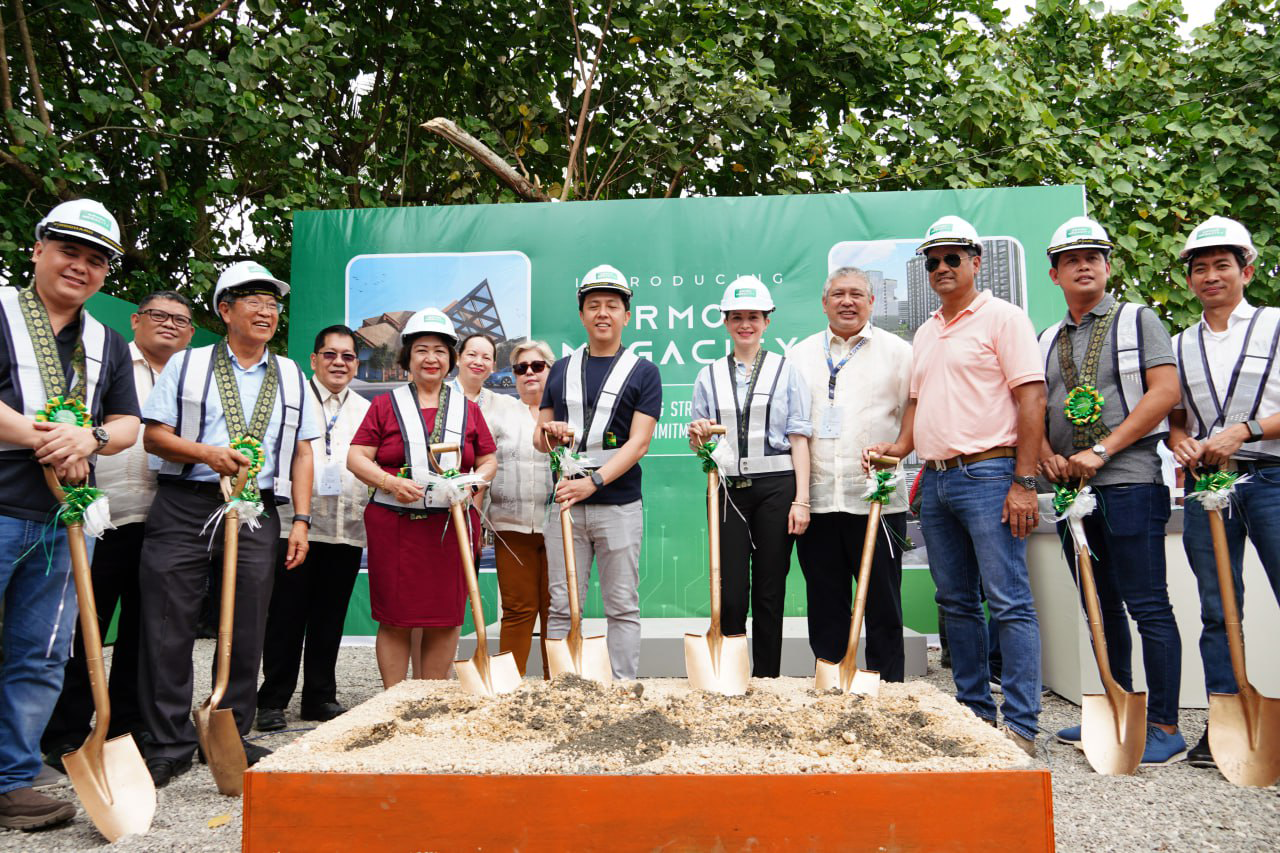 ORMOC, A BIOPHILIC CITY
A Biophilic City is a city that "aspires to be richer in nature within their unique and diverse environments and where the planning and design abundantly incorporate the natural world into the daily lives of residents." This is what the soon-to-be Ormoc City Megacity Township will be as it kicked off its 20-year development project yesterday, March 6, 2023, at the Brgy. Naungan Mangrove Eco-Park. The Ground Breaking Ceremony was attended by City Mayor Lucy Torres Gomez, Congressman Richard Gomez, and Francis Lloyd Chua, President of Premium Megastructure Inc., with the Chua patriarch, Manuel Chua. The said project encompasses an approximate area of 150 hectares covering Barangays Naungan, Lao, and San Juan. It is situated beside an estimated 200-hectare mangrove-protected area. Ormoc Megacity, an eco-tourism township, is the epitome of development without compromising the environment and the autochthonous species dwelling in it, and, at the same time, opens the door to opportunities for employment. It is aligned with the dreams of the city and the Sustainable Development Goals, to wit: 𝐒𝐃𝐆 𝟖- 𝐃𝐞𝐜𝐞𝐧𝐭 𝐖𝐨𝐫𝐤 𝐚𝐧𝐝 𝐄𝐜𝐨𝐧𝐨𝐦𝐢𝐜 𝐆𝐫𝐨𝐰𝐭𝐡 𝐒𝐃𝐆 𝟗- 𝐈𝐧𝐝𝐮𝐬𝐭𝐫𝐲, 𝐈𝐧𝐧𝐨𝐯𝐚𝐭𝐢𝐨𝐧, 𝐚𝐧𝐝 𝐈𝐧𝐟𝐫𝐚𝐬𝐭𝐫𝐮𝐜𝐭𝐮𝐫𝐞 𝐒𝐃𝐆 𝟏𝟏- 𝐒𝐮𝐬𝐭𝐚𝐢𝐧𝐚𝐛𝐥𝐞 𝐂𝐢𝐭𝐢𝐞𝐬 𝐚𝐧𝐝 𝐂𝐨𝐦𝐦𝐮𝐧𝐢𝐭𝐢𝐞𝐬 𝐒𝐃𝐆 𝟏𝟑- 𝐂𝐥𝐢𝐦𝐚𝐭𝐞 𝐀𝐜𝐭𝐢𝐨𝐧 𝐒𝐃𝐆 𝟏𝟒- 𝐋𝐢𝐟𝐞 𝐁𝐞𝐥𝐨𝐰 𝐖𝐚𝐭𝐞𝐫 𝐒𝐃𝐆 𝟏𝟓- 𝐋𝐢𝐟𝐞 𝐨𝐧 𝐋𝐚𝐧𝐝 𝐒𝐃𝐆 𝟏𝟕- 𝐏𝐚𝐫𝐭𝐧𝐞𝐫𝐬𝐡𝐢𝐩𝐬 𝐟𝐨𝐫 𝐭𝐡𝐞 𝐆𝐨𝐚𝐥𝐬 In the LGU's thrust towards innovation, while preserving culture and nature, the collaboration of the private sectors is also important to bring Ormoc City to reach her full potential—especially in the rapidly changing world. In time, Ormoc will be a "City in Nature" just like Singapore. Making it 'biophilic' is in line with the aspiration of Mayor Lucy to focus on the Happiness Quotient of Ormocanons. As people are becoming 𝑯𝒐𝒎𝒐 𝑸𝒖𝒂𝒍𝒊𝒕𝒖𝒔—they are aware of the essential role played by nature in well-being—significantly, the structures are all 'green buildings'. Indeed a green, liveable, and sustainable development. Congressman Richard Gomez is very positive about the outcome of this project. This will make Ormoc the "leading city" in the province. He recalled the challenges he faced when they started to plan the development in Naungan. What seemed to be impossible to some was painstakingly put into reality. "Slowly we make things beautiful diri sa Ormoc City.", he said. City Mayor Lucy Torres Gomez, in her message, said that "we will no try to be something we are not…we will just be Ormoc but we will be the BEST Ormoc that we can be." With this, Mayor Lucy expressed her elation for this development, and congratulate the people of Ormoc because "We have won. It is one step towards a big and beautiful dream." Gracing also the event were SP Member Lalaine Marcos, SP Member Carmen Jean Rama, SP Member Burt Pades, SP Member Peter Rodriguez, SP Member Edmund Kierulf, Provincial Board Member Vince Rama, and the Barangay Council of Brgy. Naungan, Lao, and San Juan. THE BEST IS YET TO COME in the City of Beautiful People.
March 07, 2023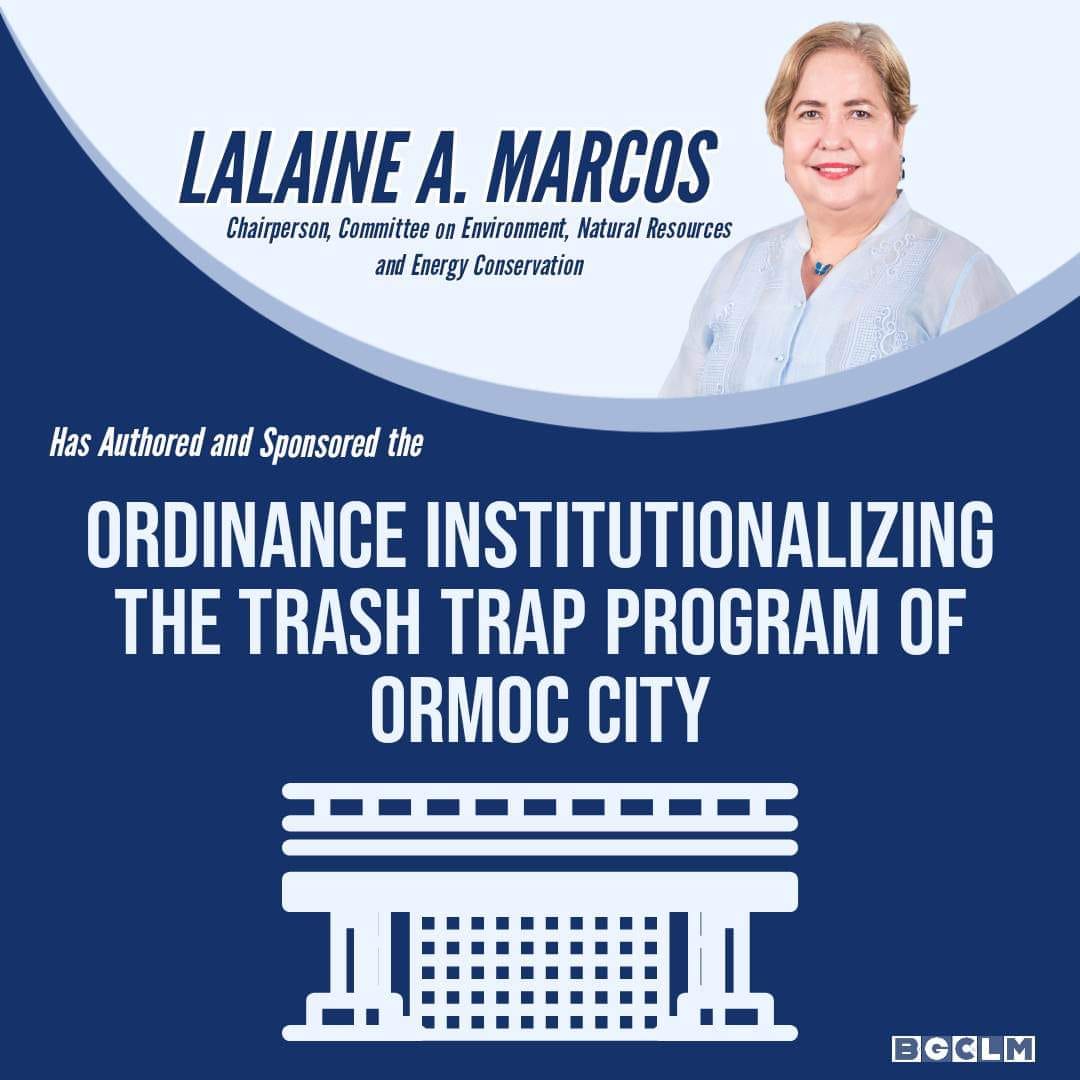 Ordinance about Institutionalizing Trash Trap Programs of Ormoc City was approved on its third and final reading
To give you a glimpse of this Ordinance, here's an excerpt from the Explanatory Note: Trash Trap is a simple innovation in trash management that has proven effective in many parts of the world and the country already. According to the Ocean Conservancy Organization, "Trash trapping technologies are an effective tool for reducing the amount of plastic waste in our aquatic systems. They are an important addition to community cleanups, trapping trash around the clock and helping us increase the amount of litter collected." The first Trash Trap here in Ormoc City was launched in Anilao River on June 14, 2019, with the cooperation of different LGU offices and departments, riverside barangays lining up Anilao, with the cooperation of private groups and concerned citizens. The theme "A Small Solution to a Big Problem" was adopted. With this success, I would like to express my gratitude to my ENRO family for being the implementor office and for always initiating a new step for a more greener and cleaner Ormoc for all Ormocanons. Congratulations!
March 06, 2023